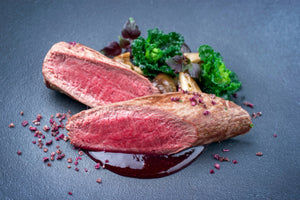 Game is on the menu for the winter season! and what better than tender and low fat venison?
A beautifully tender piece of lean venison, the loin can be cut into smaller steaks or cooked whole. Serve pink with a sweet, fruity accompaniment.
IMPORTANT - DELIVERED TO US DAILY NOW - WE WILL NEED 48 HOURS NOTICE
www.bbcgoodfood.com/glossary/venison-glossary
and some inspiration? 
www.bbcgoodfood.com/recipes/collection/venison-recipes
And there is plenty more on web. Go on, do something different this season!
Weights approximate and will be in the range specified.
Photo of actual product to follow - photos for inspiration only.