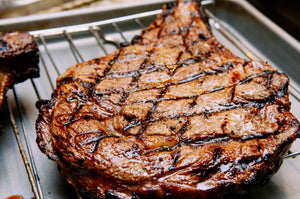 Ah, the T Bone steak. An excellent grilling choice. The T-bone has a portion of tender fillet and a portion of beefy loin all held together with the T bone. The outcome? Think about it as giving you the best of both worlds, all in one steak.
Approx. weight 16 oz per steak. 
Recipe Inspiration 
James Martin shows us how to cook the perfect Chargrilled T-Bone Steak! Just wow.
What our customers are saying ...
"First T-bone from Withecombes, absolute perfection" - Steph

All photographs for inspiration only! 
Extra Information:

T-bone steak
Excellent steak cooks lovely and tastes amazing
Quality
Like butter to cut and the taste was superb! Would certainly recommend.
Amazing!!
Bought T bone's for Husbands lockdown birthday dinner. All of the family loved them, they all said how tasty, tender and just delicious. Would definitely recommend.
Tasty T Bone
My husband is somewhat a connoisseur of steak: his reaction:
SUPERLATIVE!
uneven
the steak wasn't cut evenly resulting in overcooking the meat to make sure the bone end was cooked...