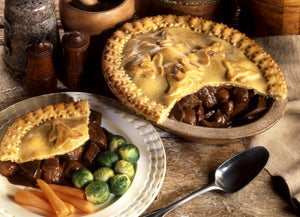 Steak and kidney pie anyone? An enduring British tradition and one we want to support! 
Recipe Inspiration 
Try this Steak and Kidney Pie recipe on BBC Good Food. Use our Steak and Kidney mix for the meat filling. A traditional, well-loved, family favourite.
What our customers are saying ...
"Delicious pie filling. Lovely tender steak and hubby loves the kidney too. Can't beat your own homemade pie." - Patricia W.

All photographs for inspiration only! 
Extra Information:

Steak and Kidney mix
The quality of this was excellent. I have ordered this before, and this batch did not disappoint.
Super steak and "klassic kidney"!
I regularly buy this, cook it in bulk in my slo cooker, divide it into portions and freeze. Thereafter It's available for quick casseroles, pies and puddings, etc.
Tasty and good value.
OMG
Best steak and kidney ever
Steak & Kidney mix
Perfect ratio steak & kidney mix made a delicious pie looking forward to creating a pudding next time