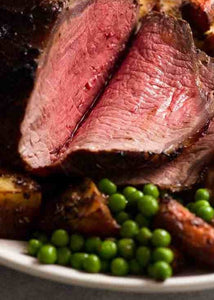 A joint for 4 people. Rich and tender beef sirloin makes for a fabulous Sunday meal. High in flavour and succulent - the perfect accompaniment to crispy roast potatoes, rich gravy and well cooked vegetables. 
All weights approximate and 1 - 1.5kg serves 4 - 6 people. Multiple weights available.
Recipe Inspiration 
Make a feast for the family with Delia Smith's recipe for traditional roast sirloin of beef! Fantastic. Cooking time based on weight - please see recipe!
What our customers are saying ...
"Won't be beaten...ever. Superb joint every time."- Matthew

Photographs for illustration purposes only!
Extra Information:

New Year's Day Roast
Had a fantastic rolled sirloin for our New Years Day roast , it was delicious , very much up to the excellent standard of Withecombes Didn't even have to go to the shop , just like our amazing Christmas order all delivered promptly to our door . Thanks guys , see you soon !
Sunday treat
The piece of rolled sirloin we had this weekend was absolutely delicious, tender,succulent and absolutely up to the standard we have always enjoyed from Robert Withecombe. They always have great meat, and now they offer delivery too - truly an added bonus at this difficult time.
sirloin
The joints look most excelllent and we look forward to enjoying them.
Super service
Ordered a sirloin and diced pork. Both delicious , great value and delivered to the door with a smile. Thank you.
Best joint ever
An exceptional joint.
Best roast beef I've had. Brilliant