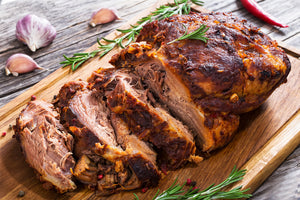 Pork Shoulder Joint is suited to slow roasting with the layers of fat providing a succulent roasted joint. Brilliant for pulled pork.
Roast Calculator
Use the BBC Food's Roast Calculator to find your perfect meat cooking time based on weight and cut. 
Recipe Inspiration 
Check out this ridiculously quick and easy recipe from James Martin for Slow Roast Pork with Apples and Peppers. If you love pork, you will love this!

What our customers are saying ...
"Lovely Pulled Pork. Very tasty Pulled Pork today, Best Butcher's in North Devon. Thank you. Click and collect is so easy."- LGail

All photographs for inspiration only! (in this case, slow cooked pulled pork).
Extra Information:

Excellent Rolled Pork Shoulder
Ordered at 7.50 Friday night. Delivered 10.15 Saturday morning with the rest of my order. Perfectly presented. Slow cooked for 8 hours Sunday. Pulled pork to perfection. Shop local, no excuses.
Shoulder of Pork
Lean and tender, delicious taste, very good service and delivery on total order
pulled Pork
Used this shoulder for Asian pulled pork cooked in the slow cooker, absolutely delicious, superb quality as always. Part of a larger order of which everything else went in the freezer. Thank you guys for keeping up the delivery service it is very much appreciated 👍
Pork shoulder
Slowly cooked, just pulled apart, best quality, would recommend, thank you
Delicious!
Superb quality and taste. Everyone in the shop really helpful. Would definitely recommend shopping local! Thanks Withecombes!