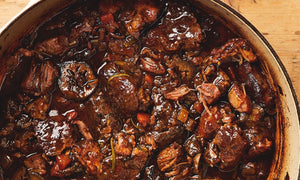 Beef shin comes from the foreshank of the animal and without long and slow cooking cooking, the meat would be very tough. But if it is cooked long and slow ... something magical happens! Beef shin is generally great value; cooking it well means the results are well worth the wait. 
Sold in packs for 2 or 4 people.
Approx. weight 1kg per pack for 4, 500g for 2.
Recipe Inspiration 
Get the most perfect, melt-in-the-mouth shin stew with this fantastic recipe from Jamie Oliver! Once you try it, you will never look back!

What our customers are saying ...
"Underrated! The most underrated cut of beef! Great for stews, chilli, curries! A must buy, great price & quality" - Glyn D.

All photographs for inspiration only! 
Extra Information:

Wow
Will never buy stewing steak again, slow cooked in cook pot all day in gravy, so tender and tasty. Going to try it in curry next
Melt in your mouth shin beef
Great value and cooked down to melt in the mouth ragu in 6hrs in the slow cooker (then 20mins on stove top as it was 'pulled' to be shredded). Exactly as we'd hoped. Will be buying again and trying other good value cuts as just so tasty. Proper beef flavor.
Succulent
It made the most beautiful beef stew. Tender and succulent.
Beef shin
Lovely tender tasty casserole but would have preferred it cut up as have blunt knives
Made a a great stew.
Great cut, great quality, and great service.