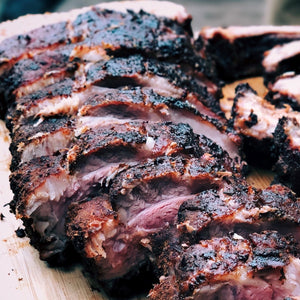 Once you really know how to cook a great rack of ribs, you never, ever look back. Ribs require a low, slow cooking time to become nice and tender. They are great for smoking, braising, grilling, or can be cooked the oven.
The ribs also take well to spice rubs and sauces. The trick to great ribs, for me, is to simmer the ribs first and then finish by dousing with BBQ coating and roasting or barbecuing! 
NOTE: Fresh rack of ribs are always in limited supply. We will always try to send out fresh ribs as available but if we do not have fresh available, we will supply frozen from stock.
Weight variable.
Recipe Inspiration 
Chef James Martin's recipe for Jacob's Ladder Ribs with Parsley Mash will give you ribs better than any restaurant! Try it out! Goes down a storm at dinner parties and gatherings, or for a big family feast at the weekend!
What our customers are saying ...
"Delicious!! Amazing quality and great price! Will definitely order again!" - Gemma S.

All photographs for inspiration only! 
Extra Information:

Family favourite
Slow cooked in Sous vide with Pepsi max cherry for about 7 hours then seared on a griddle plate over an open fire. Served with a bourbon bbq sauce doesn't get any better.
Sticky ribs
We cooked them slowly and they were delicious. So pleased we had ordered two. Will definitely buy again.
Gorgeous pork ribs
Great ribs, get a nice lot for your money. Tasted amazing & super tender with a nice JD glaze made even tastier as cooked by my son.
😕
Love these ribs, just disappointed that you have hiked your price up from £4 to £6.99? What's the justification for such a big increase in price?
Great quality
Always good quality meat, always get our ribs from here to slow cook and they come out amazing 😁