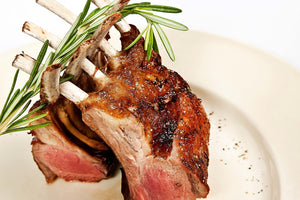 A superb roasting experience from this prince of lamb cuts. Our English rack of lamb is perfect for the special occasion (or even when it is not so special!) 
Always a stand out meal for the amateur chef. 
Weights vary.
Recipe Inspiration 
Juicy, bursting with flavour and ready in just over an hour. This roast rack of lamb with crushed potatoes dish is sure to be a hit at home and with guests! Recipe by Jamie Oliver.
Roast Calculator
Use the BBC Food's Roast Calculator to find your perfect meat cooking time based on weight and cut. 
What our customers are saying ...
"Exceptional! Great flavour with the good old mint sauce." - Glyn D.
Photographs for illustration purposes only!
Extra Information:

Rack of Lamb
Best lamb in North Devon, very tender and flavourful.
Christmas order
Ordered local instead of M&S, but did not receive my rack of lamb had to have some different lamb, bit of disappointment on the 23rd December seeing it was ordered in advanced. Could have let me know before hand.
The rest of the order was there and very good as always. I know it was a busy time but I feel very disappointed.
Fantastic
I brought a rib of beef and rack of lamb both of which were amazing. The meat had a lot of flavour and was so tender it just melted in the mouth. Another great purchase from Withecombes. Best butchers around! The staff have always got a smile ! Thanks
Different!
Looked a bit under valued at first but once cooked, was exceptional! Great flavour with the good old mint sauce.
Fab!
A good range on offer - especially with the Creedy Free Range Chicken and Duck. Withecombe and Steve's farmers markets have always been our first choice for meat - so glad for this new service. Easy to order, good delivery slots, well packed and labelled. Really impressed. I have told all my friends!