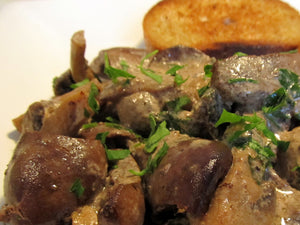 Pork kidneys have perhaps fallen a little out of favour in recent years, but they make for a very tasty meal. They are an ideal addition to stews or casseroles. Similar to lamb kidneys but with perhaps a slightly stronger flavour. Give them a try!
All photographs for inspiration only!
Please note that these are a non guaranteed stock item. We only have a very limited supply of them. If the are not available when your order is processed we will simply refund them.
Recipe Inspiration 
Delia Smith recommends enjoying Pork Kidneys in her Pork Kidneys with Mustard Cream Sauce recipe. As they are soaked overnight in this recipe, they offer a milder flavour once cooked. Give it a go!
What our customers are saying ...
"Quality local meat and fantastic customer service" - Jo Rebecca
All photographs for inspiration only! 
Extra Information:

What no kidneys?
Your website makes it clear you may not have pigs kidneys in stock. I ordered on the Tuesday for a a Friday 11.45am collection in the hope this would be enough time to supply the kidneys but no luck. The chap that served me drew attention to the fact that you couldn't supply and explained the item would be refunded. He also offered lamb or ox kidney as an alternative. I particularly wanted pig because I prefer it for stews but I had some lamb instead. Many thanks