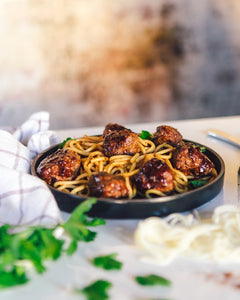 Our best-selling, lean beef steak mince is a fabulous alternative to our minced beef. Perfect for a lower fat meal with all of the traditional recipes.
Sold in packs for 2 or 4 people.
Approx. 1000g (for 4 people), 500g for 2.
Recipe Inspiration 

Try this Chilli Con Carne Meatball with Sweet Peppers and Black Beans recipe by Jamie Oliver. A great, low fat, healthy meal!
What our customers are saying ...
"Best Mince by far. This mince is brilliant. Barely any fat left in the pan after cooking & full of flavour. Add in the bonus of being sold by a fantastic bunch who are always a pleasure to talk to.." - Rachel B.
All photographs for inspiration only! 
Extra Information:

Mince was yuck
The mince smelled so bad i had to throw it away. The use by date was 22nd June but i got it out to use on the 20th.
It also looked very fatty for for lean mince.
Excellent quality and value for money
Always very lean and tasty, never had any bone or grissel.
Disappointed
I paid extra for the premium mince but was disappointed by how much fat was in mince supposed to be :lean"