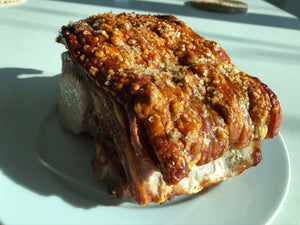 This alternative classic roast pork joint is an equally loved alternative to our other family favourite, the rolled loin of pork. Like its close cousin, the boneless, flat loin of pork, it is also well designed to create that delicious crackling. On or off the bone, flat or rolled, the choice of pork roasting joints is yours.
Like all of our pork joints, it is perfect for Sunday roast and frankly, any other time!
Approx. weight 1kg (for 4 people) or 2kg (for 8 people)
All photographs for inspiration only!
Roast Calculator
Use the BBC Food's Roast Calculator to find your perfect meat cooking time based on weight and cut. 
Great value
Delicious. Roasted beautifully