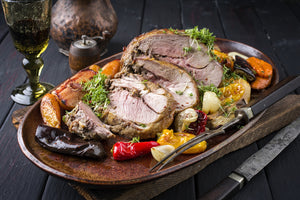 Not just for Easter! Anytime is as good a time as any for this fabulous, succulent lamb joint! Made easy to cook, serve and love by being boned and rolled.
Approx. weight 1kg (medium for 4 people) or 1.5 kg (large for 6 people).
Recipe Inspiration 
Try James Martin's Rosemary and Garlic-Roasted Leg of Lamb recipe for an incredible roast dinner.  This recipe uses Leg of Lamb with the bones in, but you can use it without. 

Roast Calculator
Use the BBC Food's Roast Calculator to find your perfect meat cooking time based on weight and cut. 
What our customers are saying ...
"Perfect! With meat of this quality, kept it simple and roasted it with a some rosemary and a few bay leaves!" - Julia S.

All photographs for inspiration only! 
Extra Information:

Superb and very tasty
Just eaten the lamb. Superb and very flavourful. Enjoyed by all. Will definitely buy again.
A Real Easter Treat
Beautiful!!!!! We slow cooked this lovely lamb joint at 120 (Fan) for 8 hours, after rubbing with olive oil, salt, pepper, chopped fresh rosemary on a trivet of halved shallots and spring carrots, all in a cast iron casserole, with a half inch of stock for moisture. After resting for 20mins, the joint just fell apart and the flavour was perfect. Served with Lyonnaise potatoes, leeks 'n carrots and spring greens. Foodie heaven !!!!!! Another belter from Withecombes, and delivered with a cheery smile by Rob ...... Thanks, guys
Boned leg of lamb
Stuffed with a hairy bikers stuffing . Lovely piece of meat as usual.
Leg of lamb
Slow roasted, was delicious, such a treat.
Easter Treat
We can honestly say this was the tastiest Leg of Lamb we have had for a long time - the 1kg joint was the perfect size for 2 adults with healthy appetites & provided leftovers! Would heartily recommend without hesitation.