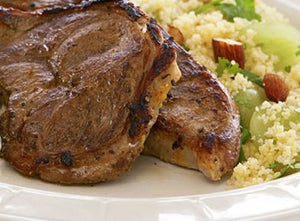 Lamb steaks are so easy to prepare, succulent and go down a treat. Our English lamb provides great examples of this cut. 
Optional - flavoured with mint.
Approx. weight for 1 is 225g - 250g.
Recipe Inspiration 
Try Ainsley Harriott's Chargrilled Lamb Steaks & Artichokes with a Rosemary & Honey Glaze. This simple glaze really enhances the wonderful deep flavour of the meat. 
Roast Calculator
Use the BBC Food's Roast Calculator to find your perfect meat cooking time based on weight and cut. 
What our customers are saying ...
"The Lamb Steaks were gorgeous so tender." - Jean B. 
All photographs for inspiration only! 
Extra Information:

Lovely lamb
We thoroughly enjoyed every mouthful of these lamb steaks, tender and tasty. We cooked along with some Cumberland sausages, mashed potatoes, various veg and a red wine gravy. Will definitely buy the lamb and the "full of meat" sausages again.
Great taste and value for money.
Excellent quality as usual.
Brilliant eating as usual what a butcher