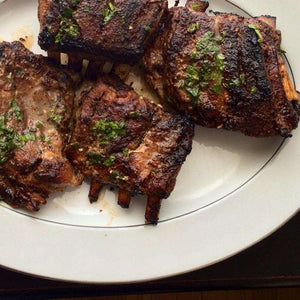 Breast of lamb is quite fatty but do not let that put you off - it is full of flavour and it should be cooked slowly. Cooked this way, the meat tenderises beautifully. Another underrated cut!
Weights vary.
Recipe Inspiration 
Have a go at making your own Spring Lamb Sauce as perfect company to your roasted breast of lamb. Recipe by Delia Smith.

What our customers are saying ...
"Great flavour and size" - Mary C.
Photographs for illustration purposes only!
Extra Information:

Great cooked over a fire!
Rib in dry rubbed and pre cooked for safety, then bbqed till nearly black over an open fire or charcoal........ Delicious!
BBQ Lamb breast ribs
Amazing quality lamb. Cooked for 3 hours on the BBQ and my what great flavour. Will 100% purchase again. Thank you
Breast of Lambs
Ordered on line two days before needed, arrived a few minutes early but the order was all ready for me, excellent service, will definately use again soon.
Massively underused cut of lamb
De-boned, stuffed with apricots, garlic, shallots, Butter, thyme, breadcrumbs, zest, rolled... Blasted and then cooked slow and long. Perfect ❤️