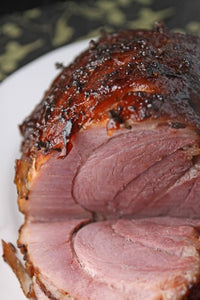 We love our gammon joints. Often underrated yet offering great value. Our gammon joints have been boned and rolled to form the joint and then cured to give it its great gammon flavour. This one is then smoked to give it even more depth!
The gammon just requires cooking and there are some great recipes out there (we've suggested one below).
Approx. weight 1kg (for 4 people), 1.5kg (for 6 people) or 2kg (for 8 people).
Recipe Inspiration 
Try this Slow Cooker Glazed Gammon recipe. Juicy, tender and delicious! Pop in the slow cooker in the morning ready for dinner time.

Roast Calculator
Use the BBC Food's Roast Calculator to find your perfect meat cooking time based on weight and cut. 
What our customers are saying ...
"Best tasting gammon we had in a long time" - Stephen H.

All photographs for inspiration only! 
Extra Information:

An addendum to my last post.
For those of you on a tight budget. I simmered the smoked gammon for two and a half hours and removed it from the saucepan. I then added leeks, celery, carrots, onions and red lentils to the residual stock, simmered for another hour then wizzed it up with an electric whisk and we now have some delicious soup which will last us at least four days. Four of our five a day, plus lentils at very little cost.
First class gammon joint. Full of flavour!!
Delicious!
I bought a 2kg smoked gammon joint and cooked it in pineapple juice in my slow cooker. It was so tender and full of flavour. I actually bought a 2nd joint at the same time! It was a little more expensive than from the supermarket, but far better quality
Excellent quality and very tasty
Great value, not too much fat. Delicious hot and cold :-)