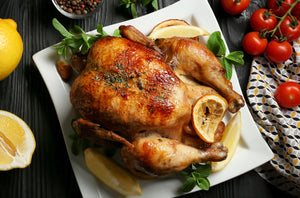 Free Range Chicken - 1.9kg - 2.1kg! A local Devon business who we think are just brilliant.

Weight is 1.9kg - 2.1kg but this is an approximation as all Creedy chickens vary slightly.

Recipe Inspiration 
Try Jamie Oliver's Springtime Roast Chicken Caesar Salad for something a little different to the traditional Sunday Roast. Delicious!

Roast Calculator
Use the BBC Food's Roast Calculator to find your perfect meat cooking time based on weight and cut. 
What our customers are saying ...
"Fantastic Chicken. This was my second chicken and did not disappoint. Great flavour and succulent. Great local butcher." - Sue B.

All photographs for inspiration only! 
Extra Information:

Consistently good
This is our favourite type of chicken. It is consistently good, with succulent meat, tasty flavour and sufficient for our family of three to have two meals.
Superb Creedy Chicken
Excellent chicken enjoyed Christmas Day. It had been beautifully cleaned out.
Look forward to our Sunday roast chicken with all the trimmings so tasty and tender.
A good buy for value in what you get in succulent meat.
Absolutely worth the extra money
Creedy Carver chickens are really tasty - so now I only buy these, but they sell really fast in the shop so I often have to go without! There seems to be a noticeable difference in flavour from these truly free range chickens and they seem to go further as well!