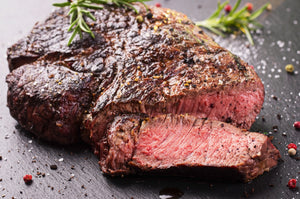 The leanest of steak cuts. Why is that? The fillet is a muscle which is hardly used by the animal and so it is very tender. It has very little fat running through it and tends to be a thicker piece of meat. It is typically expensive as you only get about 2kg of fillet steak per animal and for some, it is the only steak they will eat. I can see why!
Approx. 200g per steak.
Recipe Inspiration 
This grilled fillet steak with creamy white beans and leek recipe from Jamie Oliver makes for a fantastic main. Just brilliant.

Roast Calculator
Use the BBC Food's Roast Calculator to find your perfect meat cooking time based on weight and cut. 
What our customers are saying ...
"Melts in your mouth. Have always found Withecombes to have the best fillet steak, they never let you down. Tender and full of flavour, drooling whilst writing this." - M W.

All photographs for inspiration only! 
Extra Information:

Fillet steak was fabulous!
I ordered as a change for Christmas guests. Lovely steak, very tender and full of flavour would definitely order again
A real treat
The steak was bought for a special anniversary.
It was mouthwatering and so tender it melted in your mouth.
It was very special and made a wonderful meal to remember.
Special treat
The steaks were full of flavour and succulent, top choice for a special meal.
Fillet steak
Lovely juicy tasty steak. Plenty for me for two meals!