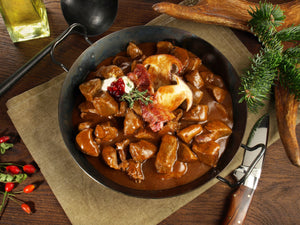 Game is on the menu for the winter season! and what better than tender and low fat venison. Important see order information below.
Cubed meat from the leg and shoulder which you can simply add as the main ingredient to make a casserole or a pie! Full of flavour and an easy meal in the oven or slow cooker after a winter's day walk.
IMPORTANT - DELIVERED TO US DAILY NOW - WE WILL NEED 48 HOURS NOTICE
Product is Devon sourced and supplied by our fully licensed partner.
Want some help on venison?
www.bbcgoodfood.com/glossary/venison-glossary
and some inspiration? 
www.bbcgoodfood.com/recipes/collection/venison-recipes
And there is plenty more on web. Go on, do something different this season!
Weights approximate and will be in the range specified.
Photo of actual product to follow - the photo for inspiration only!
Amazing!
This venison is amazing! Try on the hob, fry off the veg of choice & braise the venison in thick gravy. Lean, tasty & full of goodness. Delicious! Picture can only show an empty plate!
Delicious
Made a wonderful casserole with the venison-garlic, red peppers, onion, aubergine, tomato pasta and bacon, done in the slow cooker. Served with diced herby roast potatoes and green beans!