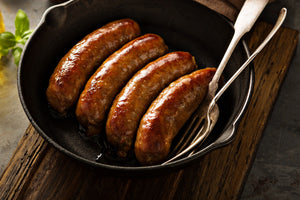 Our finest Cumberland Pork sausages made by ourselves in a traditional butchers shop. The Cumberland sausage is a British classic dating back around 500 years. It is typically succulent and seasoned with black pepper and other herbs and spices.
These Pork Sausages are made with fresh meat with only the best natural casings and  with our blend of seasoning. The sausages are linked by hand and they vary in weight and size as a result.  We therefore price by weight and give an approximate number of sausages.
Approx. weight 400g for 4, 600g for pack of 6.
Allergens: Seasoning contains gluten (wheat flour in rusk) and preservative.
Recipe Inspiration 
Get your sizzling sausages served up alongside Jamie Oliver's take on traditional mashed potato with his dairy-free Baked Potato, Celeriac and Garlic Mash recipe!

What our customers are saying ...
"My favourite banger!" - Brian S. 
All photographs for inspiration only! 
Extra Information:

Delicious
Great value, superb taste, wouldn't buy anywhere else!
My Christmas order
Excellent as always many thanks and a happy new year
Sausages
Best ever meaty and full of flavour
Tasty!
Tasty and substantial, these sausages maintain their shape and do not shrink, to provide a hearty meal.
Up to your usual high standard