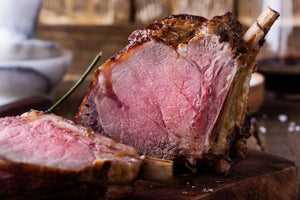 Photo to follow!
A wonderful and quite dramatic centre piece roast and provides a really rich, deep ribeye flavour.
Carvery Rib is prepared by having the vertebrae removed from a 'standing rib' and leaving the remaining rib 'fingers' exposed, the muscle is then tied to keep the shape and make carving easier. The meat stays on the bone, typically cooked from room temperature in a hot oven.  Success is a lovely charring on the golden fat with the meat cooking to pink perfection. 
The overall size is determined by the size of the animal but a two bone joint weighs around 3.0 kg and will serve up to 3 adults and the joint is ordered by nominating the number of ribs you require to meet your need.
2 bone Rib serves 3-6 (approx 3 kg)
3 bone Rib serves 6-8 (approx 4.5 kg)
Other options available
Important - we will supply to weight rather than to the number of ribs. if necessary.
If you need more, email us on butchers@withecombes.co.uk and we can can create a bigger joint.
All photographs for inspiration only! One of them comes from a customer who tells us that it "tasted as good as it looked".
Roast Calculator
Use the BBC Food's Roast Calculator to find your perfect meat cooking time based on weight and cut. 
Slow cooking is best, the use of a cooking thermometer helps to deliver the joint exactly as you prefer. Cover with foil and place in a pre-heated oven. Baste regularly and allow at least 20 minutes per lb + 20 minutes on a low heat (gas 4).
What our customers are saying ...
"What a treat..my favourite beef joint. Absolute perfection.. Really good depth of flavour the joint was beautifully marbled with fat and very very tender I cooked to Medium/well." - Annie Featherstone
Extra Information: