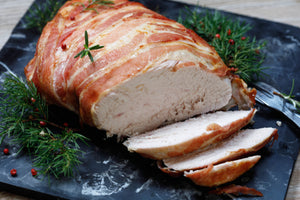 It's here and ready for purchase online!
Our tasty tender turkey breast joints are only going to be supplied fresh and they will only be English. English quality is always worth paying for. This one comes wrapped in bacon for no extra cost! Christmas doesn't get easier than these lovely fresh, turkey breast joints.
Minimum approximate weight 5kg and available in a range of sizes at £13.80/kg
IMPORTANT - CHRISTMAS ORDER INFORMATION - YOU CAN NOW ORDER FOR DELIVERY OR COLLECTION BETWEEN THE FOLLOWING DATES - 20 DECEMBER AND 23 DECEMBER - LAST ONLINE ORDERS FOR CHRISTMAS MUST BE MADE BY MIDNIGHT ON 15TH DECEMBER
Roast Calculator
Use the BBC Food's Roast Calculator to find your perfect meat cooking time based on weight and cut. 
What our customers are saying ...
"Amazing butchers, highly recommend. From ordering to delivery, helpful and friendly. Prompt service and as for the tracking app, I was "stalking'" the delivery this morning in my excitement!!" - Charmaine Coxon
Photographs for illustration purposes only!
Extra Information:

Service was fab
Great service, its for Christmas so have not tucked in to it but i am sure it will be perfect!
Great quality and plenty to go round
My order was delivered on time as usual. Our turkey crown cooked beautifully and carved perfectly. Was succulent and tasty, and after reading many other comments about supermarket purchased turkeys, I am so glad I bought from Withercombes again as they never disappoint. We will definitely continue to shop here. Thanks team.
Very happy with my purchase, lovely Turkey breast joint. Great that there is no waste. Very easy with the ordering and picking up. Thank you
Excellent
Had this two years running now and each time it has been outstanding. Tender, tasty and absolutely no waste whatsoever. Highly recommended . This was a 4kg piece which fed six easily for a few days.
Christmas Roast
A beautiful boneless turkey breast.
Tasted perfect.
Quality products with quality service.
Thank you.