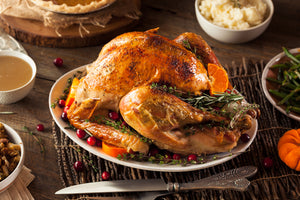 It's here and ready for purchase online!
Our whole turkeys are only going to be supplied fresh and they will only be British. Quality is always worth paying for. Devon best turkeys, near Exeter.
Minimum approximate weight 5kg and available in a range of sizes at £13.50/kg
IMPORTANT - CHRISTMAS ORDER INFORMATION - YOU CAN NOW ORDER FOR DELIVERY OR COLLECTION BETWEEN THE FOLLOWING DATES - 20 DECEMBER AND 23 DECEMBER - LAST ONLINE ORDERS FOR CHRISTMAS MUST BE MADE BY MIDNIGHT ON 15TH DECEMBER
From our Exeter supplier, delivering daily.
Roast Calculator
Use the BBC Food's Roast Calculator to find your perfect meat cooking time based on weight and cut. 
What our customers are saying ...
"Amazing butchers, highly recommend. From ordering to delivery, helpful and friendly. Prompt service and as for the tracking app, I was "stalking'" the delivery this morning in my excitement!!" - Charmaine Coxon
Photographs for illustration purposes only!
Extra Information:

quality turkey
as usual we purchased a fresh turkey and were not disappointed with the quality and taste. a high standard ,well done