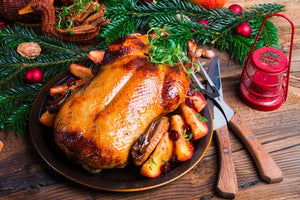 Creedy Carver Free Range Duck! A local Devon business who we think are just brilliant. A very special meat.
Approx. weight either 2.0 - 2.2kg or 2.8 - 3kg
"Founded in 1985 by Peter and Sue Coleman, as an addition to the family farm in Devon, Creedy Carver has specialised in producing the finest Chicken for over 30 years with a reputation for great flavour and a high meat yield."
We typically only get a couple in a week but I am not one for recommending something I haven't tried for myself. I can honestly say that when we did try one for a family meal, it made for a wonderful roast. Cooking the carrot and parsnips in the duck fat, alongside the duck worked a treat. The duck breast in particular was fabulously moist and full of flavour. I know a Creedy free range duck is not cheap, but in my opinion, it is worth it.
But that is just my opinion! Try for yourself.
Recipe Inspiration 
Try Jamie Oliver's personal family favourite!! Roast Duck with Pancakes. He just loves roast duck right now, and we know why!
Roast Calculator
Use the BBC Food's Roast Calculator to find your perfect meat cooking time based on weight and cut. 
What our customers are saying ...
"Thank you so much for the excellent delivery of my meat order. I cooked Peking duck last night and it was perfect." - Angela D.
All photographs for inspiration only! 
Extra Information:

Perfect Service
Great experience, easy to order, perfect customer service.
The whole pick up process was easy, fast and efficient.
Thank you so much.