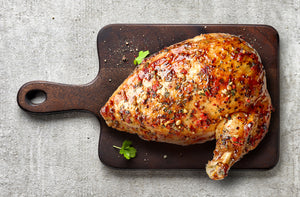 Fresh chicken breast on the bone with wings from English chickens! Lovely, simple, wholesome meal!
Recipe Inspiration
Try Delia Smith's Chicken Paprika recipe for a healthy and flavoursome meal. Serve with some well buttered noodles or basmati rice on a bed of green salad. Delicious! 
Roast Calculator
Use the BBC Food's Roast Calculator to find your perfect meat cooking time based on weight and cut. 
What our customers are saying ...
"The chicken breasts are absolutely delicious! They are very juicy and plump - unlike the inferior supermarket ones ! I bought a few to put in the freezer and we ate a couple for dinner, so much flavour - Thank you. We will be ordering again from you in a few weeks' time!" - Nicola S.

All photographs for inspiration only! 
Extra Information:

Disappointed on this occasion sadly
Delivered as scheduled on the Wednesday. I took out the beef delivered at the same time and put straight in the freezer. Checked the date on the chicken which was for Saturday so perfect to stay in the fridge for BBQ on Friday. There seemed to be an unpleasant odour in our fridge, resembling a well matured stilton. We got rid of all leftovers stored and cleaned out the fridge sadly we discovered the pungent odour was from the chicken that had evidently gone off so we had to through away. Temp checked on the fridge and all perfect and working at it should be. Not our usual experience of your products I must add. Debbie
Definately ordering these again!
These are massive for the price, my husband and son loved them!
Roasted in the oven and stayed so succulent.
Disappointing lads! Hopefully a one off!
Unfortunately went off after only two days in the fridge! Removed from outer bag on Saturday, day of purchase and seemed fine. Not though when opened the fridge on Monday to retrieve, not nice. First time occurrence. Move on. No picture would seem appropriate! Glyn.
Thanks for the feedback Glyn, it is important that we know. I am really sorry to hear about the issue. It is unusual and shouldn't happen again. The item has of course been refunded.