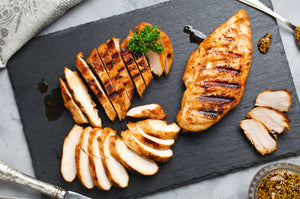 Fresh chicken breast is proving incredibly popular at the moment. It is of course, brilliantly versatile as the key ingredient for many cooks, amateur or otherwise! It is also a relatively lean and healthy option, with the fat trimmed away. What is not to like about chicken breast?
We know that you love it and some of you are keen to buy more and more it seems! Our 5kg pack seeks to satisfy the need to plan your meals ahead, typically with the benefit of the freezer.
Either Dutch or English breasts are available in limited supply and first come first served.  both are excellent, one is more expensive than the other (your choice but we would always prefer if you ate English!).
The pack contains around 23 fillets at an approximate weight of 5kg.
Recipe Inspiration 
Try this quick recipe for Roasted Chicken Breast with Lemony Bombay Potatoes by Jamie Oliver, for a tasty yet subtly impressive dish any night of the week.
Roast Calculator
Use the BBC Food's Roast Calculator to find your perfect meat cooking time based on weight and cut. 
What our customers are saying ...
"Good quality, large chicken breasts. Excellent."- Margaret P.
All photographs for inspiration only! 
Extra Information:

Best way to eat chicken!
Good value and delicious - Chalk and cheese vs anything in the supermarkets
Great chicken breasts, best way to buy for great value
The best butchers
We always look forward to receiving a meat order from Withecombes - the British chicken breasts are superb and and the bacon is the best we have ever had. Consistently great food.
British Chicken Breasts
Good quality, large chicken breasts. Excellent.