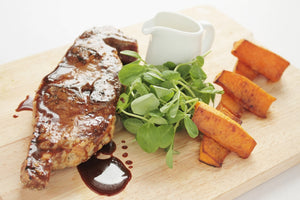 A special cut. Essentially a double loin lamb chop sliced from the saddle roast, it can be grilled or pan-fried. Our English lamb chops are a perfect addition to a grill or a barbecue.
Approx. weight per chop 225g.
Recipe Inspiration 
Try Delia Smith's quick and easy recipe for Lamb Chops with Roasted Vegetables. Delicious!
What our customers are saying ...
"Deliciously meaty chops. These chops are always a favourite in our household. Very tender and meaty. Always our chop of choice." - Patricia W.

All photographs for inspiration only! 
Extra Information:

Double lamb chops.
Absolutely delicious full of flavour and tender
Will definitely be buying again,
Tasty, tasty, very very tasty
Thoroughly enjoyed these chops. Looked good and tasted good. Lived up to our expectations. Enjoyed with your terrific sausages!
Delicious
The best lamb chops ever. Plenty of meat, good taste and well worth paying a bit extra for a decent size chop.
Very succulent and tasty
Always excellent quality and so so tasty when very much recommend
Sooo Tasty
Really tasty tender meat. A real treat.