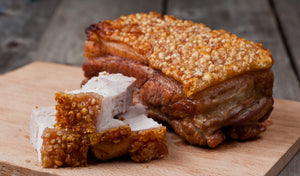 As Jamie Oliver says "the best pork belly recipes let this wonderful cut of meat speak for itself." Buy it as a joint or sliced and then find a great recipe and cook. Slow roasted belly pork. The great layers of fat and beautiful meat makes it absolutely delicious.
Recipe Inspiration 
Pork Belly and BBQ sauce? Yes please! Try this BBC Good Food BBQ Sauce Recipe and enjoy in a bun with coleslaw and fries!! Fantastic!!
What our customers are saying ...
"Very tasty and nice big slices" - Barbara W.

All photographs for inspiration only! 
Extra Information:

Excellent
As always excellent never had any problems dawn wort
sliced belly pork
As usual top quality.............just great !!
Restricted choice.
What I wanted was their chinese ribs.
They're not available and seems staff do not read 'added notes'.
I'm usually a very regular, long time customer and have noticed quality of cuts have decreased now we no longer have the option to choose our cut.
Tasty
Very tasty and nice big slices