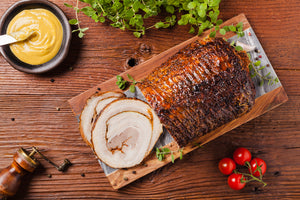 As Jamie Oliver says: "<span>the best pork belly recipes let this wonderful cut of meat speak for itself." Buy it as a joint or sliced and then find a great recipe and cook. Slow roasted belly pork. The great layers of fat and beautiful meat makes it not only absolutely delicious, but fun to cook. Wow! We love it. So will you.</span><br></p>
<p><span>Do you want enough for 8 people? Just add two to the shopping cart!
Approx. weight 780g (for 4 people).
Recipe Inspiration
Try James Martin's sticky slow roast belly pork recipe. Serve up with a huge dollop of mash (there's a recipe for pumpkin mash on the link too!)
Roast Calculator
Use the BBC Food's Roast Calculator to find your perfect meat cooking time based on weight and cut. 
What our customers are saying ...
"A very nice joint my husband loves pork and he was very pleased with the taste" - Pat C
All photographs for inspiration only! 
Extra Information:

Very pleased with my order many thanks Edna
Pork was boned but not rolled.
Pork
A very nice joint my husband loves pork and he was very pleased with the taste