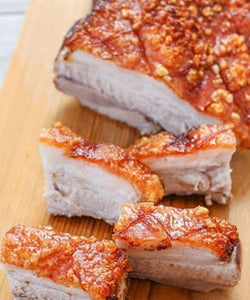 Buy as a joint for slow roasted belly pork! The great layers of fat and beautiful meat makes this pork not only absolutely delicious, but fun to cook with. 

Do you want enough for 8 people? Just add two to the shopping cart!
Approx. weight 780g (for 4 people).
Recipe Inspiration
Cooking a special family lunch? Try Delia Smith's Slow Braised Belly Pork with Bacon, Apples and Cider recipe, it's sure to be a hit! 
Roast Calculator
Use the BBC Food's Roast Calculator to find your perfect meat cooking time based on weight and cut. 
What our customers are saying ...
"My favourite. Slow cooked this for 3 hours, what a dream!! So tender with soooo much flavour and the crackling, well, salivating at the thought of it!" - Zoe
All photographs for inspiration only!
Extra Information:

Surprised
Good and meaty but didn't expect such large bones, on such a small joint.
Cooked the pork belly today and it was delicious as was the crackling, couldn't fault it.
Belly Pork
The belly pork was very tasty.
The rump steaks were excellent (thick and tender).
The rest of our order is in the freezer for future use.
Pork belly Supreme
What an amazing and delicious piece of meat! We made a pulled pork belly and it was divine!!!
Have put in freezer for when family can enjoy to.