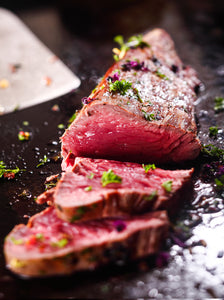 A very lean steak (typically in limited supply, so a maximum of 2 can be ordered) with the full flavour and tenderness of the fillet. 
A fillet tail steak is the thinner "tail" part of the whole fillet. It doesn't take too much cooking and is ideal for slicing and using in stir fries, for example. 
Typical weight of one tail circa 300g priced at £ 10.99.
To be honest, I don't think fillet steak of any type needs too much fuss ... but, perhaps I don't try hard enough! There are lots of great recipes out there, for both fillet and fillet tails (see our suggestion below!). 
Recipe Inspiration 
Try this speedy yet impressive Great British Chefs' Fillet Steak recipe, made with peppercorns, brandy and double cream ...
Roast Calculator
Use the BBC Food's Roast Calculator to find your perfect meat cooking time based on weight and cut. 
What our customers are saying ...
"Such a versatile piece of meat - we made great fajitas this week but have used them for stir fry too. Our homemade 'takeaway' weekend treat." - Sarah R.

All photographs for inspiration only! 
Extra Information:

Fantastic
We use this for stir fry and it was fantastic as usual
Beef fillet tail
Tender, tasty and delicious!
First time I have tried fillet tails, it won't be the last. It made a very delicious dinner.