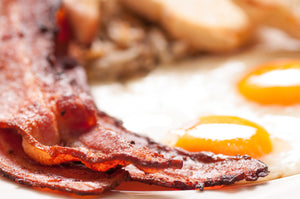 Do you have a lot of people to feed for that big family breakfast? Our 5lb "catering size" pack may be what you are looking for!
Approx. weight 2.27kg
Recipe Inspiration
Looking for something a little bit different? Try these mini Bacon and Egg Pies by Delia Smith. They're perfect for picnics or for warming up in the oven after a rainy walk!
What our customers are saying ...
"Large smoked bacon, great tasting, and good value" - Paul 
All photographs for inspiration only!

Extra Information:

Bacon!
Who doesn't love their bacon. Only way to assure there's enough bacon sarnies around for a few weeks. Good slices, so much better than what you get from supermarkets.
Lovely bacon
Don't normally buy smoked bacon but this tasted amazing!
Superb bacon
Lovely flavoursome bacon.
Thick slices, tender - we loved it.
Bought loads for the freezer so will be stocking up from you soon!
Thank you!
large pack great value
large smoked bacon,great tasting,abd good value
Great order
Great bacon, keeps us going for abit sandwiches, pasta, omellets. As always great service ordered 7ish collected 11. Fantastic