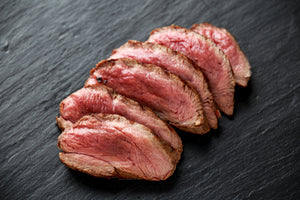 Game is on the menu for the winter season! and what better than tender and low fat venison?
Cut from the haunch, or back leg, this steak is simply pan-fried to make a quick and easy meal. A lovely alternative to beefsteak?
IMPORTANT - DELIVERED TO US DAILY NOW - WE WILL NEED 48 HOURS NOTICE
Product is Devon sourced and supplied by our fully licensed partner.
Want some help on venison?
www.bbcgoodfood.com/glossary/venison-glossary
and some inspiration? 
www.bbcgoodfood.com/recipes/collection/venison-recipes
And there is plenty more on web. Go on, do something different this season!
Weights approximate and will be in the range specified.
Photo of actual product to follow - photo for inspiration only