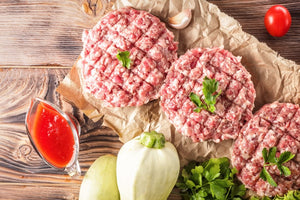 Same great stuff that goes into our sausages! 
All photographs for inspiration only! Not supplied burger style.
Recipe Inspiration
Try Delia Smith's Sausage Rolls recipe. Super easy to make and totally delicious. 
What our customers are saying ...
"Great for gorgeous sausage rolls, and scotch eggs." - Julian W.
Extra Information:

This sausage meat makes great sausage rolls!
Great
I find the sausage meat delicious, I've just made some sausage rolls and of course we had to have one each. Lovely. Turkey in the fridge chipolatas ready to make pigs in blankets . Thank you so much , the delivery was on time and we are delighted with everything.
Great service
Not ordered for delivery before, but definitely would again. Perfect.
best sausages in Devon
The large pork sausages/sausage meat is the best you can buy,amazing taste and real whoppers,we make our own with sausage meat too.
agree best butchers in town
Sausage meat and all the meat good quality. Roll on when the shops opens