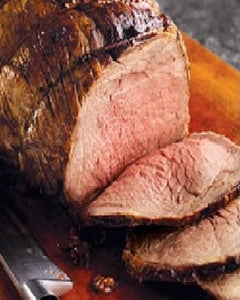 A joint for 4 people. Topside of beef is the long, inner muscle of the cow's thigh and it makes for a lean cut. More tender than say, silverside which is taken from the hindquarters. Topside tastes delicious when roasted as a whole joint, or it can be diced and slowly stewed. A topside joint is a staple of many a Sunday meal!

Weights are approximate, 1kg for 4.
Roast Calculator
Use the BBC Food's Roast Calculator to find your perfect meat cooking time based on weight and cut. 
Recipe Inspiration 
Try Jamie Oliver's recipe for Topside of Beef with a Rich Red Wine Gravy and you can't go wrong!
What our customers are saying ...
"That was one of the nicest pieces of beef we've had for a long time all the family said it was great and loads left for sandwiches etc will be buying again for sure thanks again Withecombes" - Jenny M.

All photographs for inspiration only! 
Extra Information:

THE BEST BUTCHER
Topside tasted like it used to in the old days !! Will purchase again. Ordered on line and collected on time.
Lovely Topside!
I slow cook beef and this meat did not shrink at all, kept its texture and sliced beautifully-melted in the mouth! Absolutely delicious 😋
Beef joint was lovely and succulent as always
Succulent joint of beef
Topside beef instead of our traditional turkey this year.
The flavour was fantastic and the joint was so tender.....