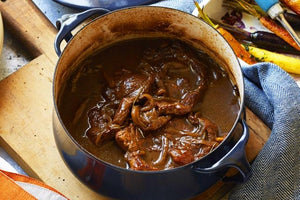 Braising steak is a richly flavoured steak, ideal for casseroles and slow cooking. Inexpensive and properly cooked, it is incredibly rewarding!
Sold in packs for 2 or 4 people.
Approx. weight 1kg per pack for 4, 500g for 2.
Recipe Inspiration 
This fail-proof Boeuf Bourguignon recipe by Delia Smith really couldn't be any easier! And what a result at the end!! Get in our bellies!!
Roast Calculator
Use the BBC Food's Roast Calculator to find your perfect meat cooking time based on weight and cut. 
What our customers are saying ...
"Tender lean steak made a delicious casserole. Thank you." - Anna

All photographs for inspiration only! 
Extra Information:

Buttery braising
We made a slow cooked goulash following a recipe by the hairy bikers. The meat was tender, extremely tasty and just melted in your mouth. Will definitely buy this and use this recipe again. (Forgot to take a photo, busy enjoying the moment)!
Goulash
As always, such good quality meat. Really enhances slow cooker Goulash, great comfort food for long winter evenings.
so tasty
popped in the slow cooker with a few cubes of oxo and some water and onions. Beaut.
Great meat
As always, great quality.