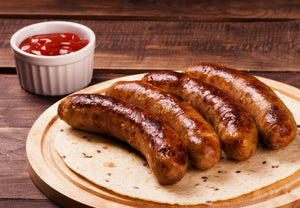 The final one in our limited edition range is our excellent pork with a hint of honey sausages!
Made with fresh meat and only the best natural casings. Our sausages are hand linked in the traditional way and as a result, the size of the sausages may vary. We therefore price by approximate weight and give an approximate number of sausages.
4 Sausages in a pack approx. weight 400g
6 sausages in a pack approx. weight 600g
12 sausages in a pack approx weight 1.2kg

Allergens: Seasoning contains gluten (wheat flour in rusk) and preservative.

Recipe Inspiration 
We love these sausages served up on a bed of leaves with Sweet Potato Salad. Simply divine! Recipe by BBC Good Food. 
What our customers are saying ...
"Mmmm lovely. These are so tasty and a family favourite!!" - Emma L.

"Deliciously sweet pork sausages. We usually buy your "ordinary" sausages but thought we would have a change this time. Your honey roast sausages are just as good." - Cheryl G.
All photographs for inspiration only! 
Extra Information:

Massive sausages!
Really tasty and meaty. Perfect for the bbq. Nice sweet flavour, you can really taste the honey. Delicious.
Pork and honey sausages
Such lovely sausages really recommend was so tasty.
Sausages
Ive bought these before and i have to ssy they are my favourite. Ate them today. So, so.tasty . Absolute the best 😊
A good way to shake up routine
We usually have pork and apple or black pepper sausages but I decided to shake it up a little with these, now I'm torn between making them a regular feature or a nice treat. Really nice flavour, going to try them in a risotto next!
Delicious
My Husband and Son loved them