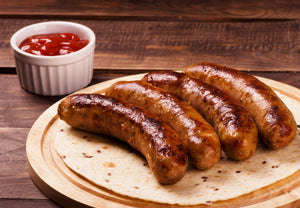 A limited edition version of our fantastic and popular pork sausages! 
Try them, you will love them - they are made with fresh meat with only the best natural casings, and with our own secret blend of seasoning. These sausages are linked by hand in the traditional way and as a result, they can vary in size. We therefore price by approximate weight and give an approximate number of sausages.
4 Sausages in a pack approx. weight 400g

6 sausages in a pack approx. weight 600g
12 sausages in a pack approx weight 1.2kg
Allergens: Seasoning contains gluten (wheat flour in rusk) and preservative.
Recipe Inspiration 
Aside from the traditional sausage bap (loaded with melted cheese and caramelised onions please!), or as part of a mighty fine English Breakfast, try these sausages in all manner of dinner recipes.
We like this Jamie Oliver one for Southern Sausage Stew in the colder months, or this Wild Garlic and Sausage Fusilli one in the Summer.
What our customers are saying ...
"These sausages are amazing. The best we've tried so far." - Emily G.

"Fantastic sausages. Like all the different flavour sausages that they provide they are absolutely fantastic so full in flavour and so meaty after tasting these sausages I won't buy anywhere else both me and my family love them as well as the different flavour burgers fantastic thank you" - Julie N.

All photographs for inspiration only! 
Extra Information:

Superb Food
Absolutely lush, great quality products and total value for money. Keep up the good work!!
Lovely Sausages
These are our favourite.
Lovely in a sausage batter.
Sausages
Not good definately not as good as they were a year ago Do not taste of pork and apple
Lovely sausages
We haven't had them yet but we know they will be lovely, as we usually get our meat from Withecombes and have never been disappointed yet.
Fab sausages
Love these super tasty sausages. Everyone in the family moans if we just have ordinary ones .