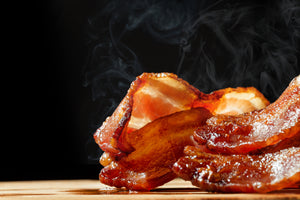 Streaky bacon? Brilliant for breakfast (and lunch)!
10 slices approx. weight 350 - 380g.

Recipe Inspiration 
Whip up Jamie Oliver's insanely tasty, quick and easy Berry Good Pancakes made with streaky bacon and blueberries for a special Sunday breakfast!
What our customers are saying ...
"Best bacon in town" - Ben M. 
All photographs for inspiration only! 
Extra Information:

Wow
Lovely thick bacon. Not like the wafer thin rubbish from supermarkets.
Lovely bacon
Excellent quality as always.
Streaky bacon
Good value indeed and very tasty